Jennifer Kiel
Farm Progress
The goal of John and Jordan Settlage is to prevent even one raindrop from directly contacting their soil, so it's not loosened and susceptible to being flushed or blown off the field.
"Our farm has layers of sponges," says Jordan, who practices regenerative, organic dairy farming on 500 acres with his father, John, in St. Marys, Ohio.
They farm with their respective wives, Dana and Laurie, and are the fifth and sixth generations to progressively transfer into the farm from John's father, Lester.
About 280 cows of mixed breeding are grazed typically from the end of March until mid-December. During the winter the cows are loosely housed in compost-bedded barns.
About 80 acres are planted each year to row crops; organic corn and sorghum for silage, and organic soybeans as a cash crop. Cover crops are grown on these acres, along with buffer pollinator strips. Woodlands, wetlands and other conservation areas are managed on the farm. A few chickens, pigs, ducks, cats and dogs populate the farmyard.
John, citing a recent podcast he heard, says, "For every pound of conventional corn that's produced in this country, there's 2 pounds of soil lost. That's moving us toward desertification. We don't look at our farm so much as owning it, but rather stewarding it for the next generation. We want it to be here and productive for many years into the future."
Jordan, who served in the U.S. Army, agrees. "I got to see real deserts. I'm not sold on the system of killing everything that's not one crop growing in a field. I'd rather be farming a system that's centered around life — healthy soils, healthy plants, healthy animals, healthy end consumers, and that's a whole cycle that goes around and around."
The Settlages, nominated by Christine Davis of the Auglaize County Soil and Water Conservation District, have been chosen as a 2022 Ohio Conservation Farm Family.
Back into dairy
The farm has always had livestock – dairy and hogs and then beef cattle. It was out of dairy for more than 20 years, but still raising some dairy replacement heifers, when Jordan announced he wanted to be a dairyman. "Me not so much," John says. "So, I told him in high school he needed to go milk cows, and that's what he did from the time he was 14 to 26."
After his time in the service and graduating college, he started building the dairy in 2015. After attending an Organic Valley procurement meeting, he decided that's the direction he wanted to go. With Jordan wanting a grass-based dairy, the operation began the transition to organic in September 2016 and was certified in 2019, turning high-value, row crop acreage into pasture varieties and blends. "We graze our cows about 270 days a year on a very high-quality, managed forage diet," he says.
The EQIP program helped with cost-share on the seed mix of legumes, grasses and forbs. Pastures rest about 30 to 40 days in between grazing.
Cows are on pasture from April 1 through Nov. 30, sometimes later. Tree trimmings are composted for the in-barn, winter bed packs.
New way of doing things
In flat, lush west-central Ohio, corn and soybeans dominate without much pasture.
"Other farmers have said we are lucky to have pastureland … and to that I say, 'No, we planted it,'" John says. "We're getting really high production off our pastures because we do have really good soil, and we manage them very well. Cows are milked twice a day, and each time we move them, they are getting fresh pasture to graze on."
The Settlages are utilizing the Grassland Conservation Reserve Program for 150 acres that they are allowed to graze or make hay, as long as it's permanently covered. A percentage of the acreage is required to be in a setback for usage or harvest until July 15 for nesting habitat.
"That works out good because we set aside a less-desirable pasture area, which gets a really long rest, and then we use dry cows and heifers to graze that mature grass and to trample down the rest," John says.
The program allows for cost-share or government grants for building laneways, water systems and fencing. On the farm, pastures are not individual paddocks, but rather large blocks of land with a lane through the middle. Portions are partitioned off with each move using poly wire and the herd grazing about 4 acres total each day. "That enables us to really manage the pasture well," John says.
Excess acres in the spring and summer are harvested for winter feed. "Our goal is to make hay in one day — to maintain its quality and to allow the next crop to begin growing right away," he adds.
This summer the last of 12,000 feet of water line was installed.
Using regenerative agriculture in an organic system they are able to record "profitable margins," Jordan says. "We're feeding high-forage diets, which is a recipe for making relatively cheap milk on the production side. We make the cows do a lot of the work. … They haul their own manure; they take care of their babies, harvest their own feed; and they walk to deliver their milk."
On stored feed, they are harvesting above 16.5% protein, with a net energy level of 0.78. "That's very close to the energy level of corn silage," Jordan says.
The Settlages sell to the Organic Valley out of Wisconsin co-op.
Promoting strips
Pollinator strips are planted in the longer boundary lines shared with conventional neighbors, which also serves as a buffer strip for the organic operation. They've constructed their own wetlands without any cost share and have a forest management plan that harvests trees every five to 10 years, depending on the markets. They are focused on removing lower-quality trees, such as soft maples, to let the big oaks thrive and populate.
John and Jordan claim they don't have weeds, because if the cows will eat it, it's not a weed.
Farmers have asked me in the spring if I've planted yet, and I say, 'Yes, got it all planted. It's in pasture. We've even harvested a couple of times.'"
How do they know if they're doing the right thing?
By keeping the soil covered, they don't have much runoff. But John says, "On a big rain event, the runoff from our fields into a drainage ditch was clear, while I see other fields draining chocolatey brown water into nearby ditches. It's a pretty amazing testament to what we're doing to curb soil erosion."
Using a relatively new practice, the Settlages planted soybeans into standing rye this year. After the beans emerged and were about 4 inches tall, they crimped the rye. "Part of the field looks pretty good, the other not so much," John says. "Where the rye was a little thin, there's a lot of grass coming in. The idea was to get a jump on the beans, but the rye wasn't ideal for crimping yet, which was delayed even further with wet weather."
He's not sure he'll do that again, but it proves they are not afraid to try new practices.
With their current system, Jordan says a lot of things are going right. "We are quickly building organic matter. Our pastures are yielding more and more every year. Our cows are making more milk every year, and they're getting pregnant quick and living long, healthy and productive lives."
The Settlage Family
Family: John Settlage was born and raised on the farm. He married Laurie 40 years ago. After farming independently for several years, they moved into the homeplace and formed a partnership with John's parents, Lester and Helen. Their son Jordan is now a partner in the farm operation. Jordan and wife Dana live nearby with their three children, with the oldest two already finding farm chores they can do. Daughter Jesse and husband Lucas help out on the farm, and son Caleb and wife Dianne live in Arizona. John and Laurie are expecting their ninth grandchild.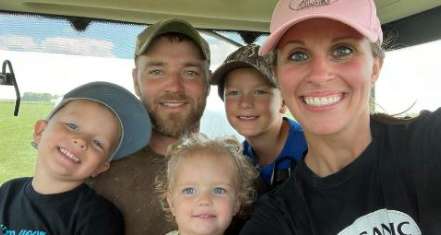 FAMILY AFFAIR: Working on the farm are Asher (left), Jordan, Nora, Micah and Dana Settlage.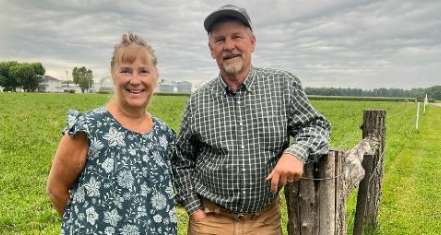 TEAMMWORK: John and Laurie Settlage recently celebrated their 40th wedding anniversary.
Farm: The roughly 500-acre farm is mostly owned by a family limited liability company, managed by John and Jordan. The farm completed its transition to organic in 2019. Organic milk production with highly managed pastures is the primary focus.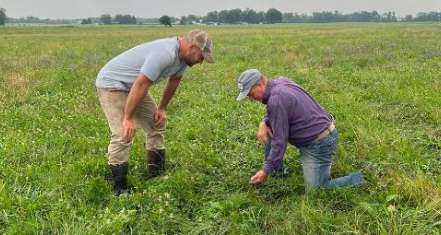 CHECKING THINGS OUT: John and Jordan evaluate pasture regrowth.
Nominator: Christine Davis, program administrator for the Auglaize County Soil and Water Conservation District
Outreach and education: Jordan is a certified mentor-grazer through the Dairy Grazing Apprenticeship program. The farm has two apprentices and an intern, one coming from the local area, another from Detroit and the third from Tanzania. The farm hosts frequent tours for industry, government, conservation, education and the public. Currently, three research projects are underway on the farm. John and Jordan have both been speakers in various forums. Jordan is involved in numerous committees and leadership development events with Organic Valley; he has also produced a number of YouTube videos. John has pastored Christ the King Church for the past 11 years.