Stacy Smart
Dairy Star
RANDOM LAKE, Wis. – Ricky Baker and Thelma Heidel-Baker thrive on simplicity. So do their cows. The bovines at Bossie Cow Farm eat only grasses and hay. The Bakers feed no grain. Instead, cows feast on a smorgasbord of grasses including meadow fescue, orchard grass, rye grass, quack grass and more along with clover, forbs like dandelions, plantain and chicory, and a spattering of alfalfa.
"We focus on high-quality pastures to get the best-quality feed for our dairy cows," Thelma said.
Located near Random Lake, Bossie Cow Farm is a grass-based organic dairy and Thelma's childhood home. The farm was conventional when her parents, David and Angelita Heidel, took it over in the late 1970s. They started grazing in the early '90s, and a shift to organic farming ensued. The farm was certified organic in 2003. In 2009, the Heidels quit feeding grain, and the farm became a 100% grass-fed operation.
"They switched to grazing in response to the notion of 'Get big, get out, or go in a different direction,'" Thelma said. "My dad decided to go in a different direction."
Herd size has stayed the same for over 40 years as the Bakers continue to milk 50 cows just as Thelma's parents did and pasture animals on 80 acres. They also farm 160 acres of hay land, and feed baleage and dry hay when the cattle are not on pasture.
"That's the only way to make 100% grass-fed work," Ricky said.
Farming was not always an obvious choice for the Bakers who pursued other careers after college. Ricky was a race director managing sports events; Thelma kept her toes in agriculture as an entomologist specializing in agricultural entomology and pest management. She and Ricky, also a native of the Random Lake area, met in Minnesota. After the couple married, Thelma's job took them to Iowa. The Bakers' children – Ava, 7, and Arthur, 5 – were motivation for returning home to their families in 2015.
"We started talking about where we wanted to raise our kids," said Thelma, who now works as a soil conservationist for the United States Department of Agriculture Natural Resources Conservation Service. "All the grandparents were here, and we had to decide whether to keep following our careers or come back to family. My parents were getting older, and there was no one in line to take over the farm. We didn't want to see it come to an end."
Ricky and Thelma bought the cows and took over management of the farm in 2017. Ricky was new to farming and got involved with the Dairy Grazing Apprenticeship program to learn the ins and outs of grazing and network with other farmers and graziers.
"Grazing is the best thing for beginning farmers," Ricky said. "If you make a mistake with rotating grass, you get another chance in 30 days to do it right. But if you mess up corn, you have to wait another year to correct it."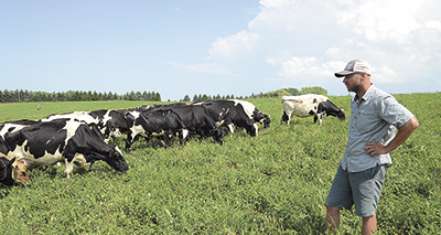 The Bakers' herd of Holsteins, Jerseys and Holstein-Jersey crosses obtains nearly all of its nutrition direct from the land. Cows are provided fresh pasture twice a day through the use of mobile fencing. Cows are then rotated through different fields throughout the farm. Fields are rotated less frequently, with cows tyipcally revisiting a field every 35-40 days. The Bakers use portable break wires to restrict movement in pastures.
"It's important to manage grazing," Thelma said. "Pastures need adequate time to rest; therefore, we're always moving cattle. If you let cows eat all the way down, the pasture will be full of weeds. We move through relatively quickly so pastures have a chance to regrow, otherwise cows nip off new growth. Poly wires and moveable fences are good tools that allow us to move interior fences quickly."
The Bakers like for grass to be 20 inches tall when they open up a new pasture but will send animals out earlier in the spring.
"It's not so much about feeding at that point as it is setting up pastures for future grazing," Ricky said. "It's not good if everything is ready at the same time. We stage every pasture for different conditions to create grazing wedges."
To improve pasture productivity and preserve the soil, the Bakers do a lot of interseeding in spring and frost seeding in late winter. If pastures have considerable wear and tear, Ricky may decide to reseed.
"Pasture quality begins from the ground up," Thelma said. "Our pastures have been here for decades. These permanent perennial pastures have not been tilled in 20 years. Soil quality, fertility and plant diversity help maintain a healthy pasture ecosystem, which in turn benefits the cows."
Calf rearing is hands-off for the Bakers, who practice seasonal calving and raise calves on nurse cows. The pairs are kept on a separate pasture from the milking herd. The Bakers breed for grazing genetics, striving for a smaller cow better suited for grazing and producing milk rich in butterfat.
"Pasturing impacts milk flavor in a positive way," Ricky said. "And the health benefits pass through the milk. It's higher in CLA (conjugated linoleic acid) and omega-3."
The Bakers put in a swing-8 parlor two years ago, turning milking into a one-person job.
"It's made a big difference," Ricky said. "Milking in the tiestall barn took forever and was exhausting. Now we milk in half the time, and it's much easier."
Recently, the Bakers switched to milking cows once a day at 7 a.m.
"We think it's great," Ricky said. "We have two little kids, and this gives us more family time. It also gives me more time to manage pastures. Production will inevitably go down but so will our expenses. When looking at the business, we don't concentrate solely on production – we look at the whole picture, including labor, inputs and capital expenses. This decision is more about lifestyle, and I also feel the cows are less stressed."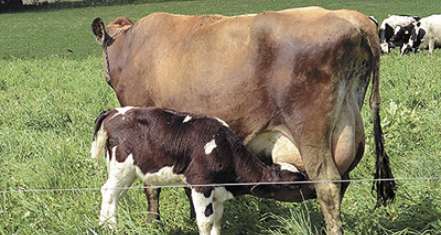 As organic farmers, Ricky said they enjoy not using pesticides and herbicides.
"We don't need them in our management toolbox," Ricky said. "It's possible to do without."
Furthermore, being an organic farm feeding a high-forage diet has virtually eliminated health problems in the herd.
"Organic is a preventative approach," Ricky said. "Once a cow is sick or has mastitis, it's difficult to get rid of. Here, it's more about preventing than treating. We'll use oil treatments and garlic tinctures when necessary, but we don't have a whole lot of health issues. I've never seen a (displaced abomasum), and we maybe pull one calf a year. The only time the vet was here last year was to vaccinate."
In addition to producing organic milk, the Bakers also offer organic, grass-fed beef for private sale and raise pigs for pork and chickens for both eggs and meat.
"We like to maintain a public presence and sell meat and eggs direct to the consumer," Thelma said. "It's our way to diversify."
The Bakers admit that intense grazing does not come without challenges, and every year, they discover something new about grazing and tweak things as needed.
"Pasturing is a fine balance of giving cattle enough to eat to be satisfied yet not waste," Thelma said.
"This practice takes patience and flexibility. From weather to livestock to pastures, you don't have full control over everything – you have to roll with the punches."
All photos by Stacy Smart