By Mike Taddy
Grazing Magazine
Any major life transition can be difficult for individuals and families. At various points in life, most of us will find ourselves faced with major changes—new locations, homes, schools, careers, and relationships. Under normal circumstances, times of transition lead to excitement as well as anxiety, uncertainty, and physical and emotional stress. For those transitioning from military service, stressors are often compounded by the emotional ties that come with service to our nation. The commitment to fellow service members, which is emphasized throughout training, various operations, and unit of assignment, fosters teamwork and an identity readily recognized by a respective service's uniform. When that uniform is removed for the final time, many veterans testify to the loss of identity.
In my early years of service, words shared by a popular Air Force speaker helped me gain perspective with maintaining and remaining true to an identity—no matter the situation. One afternoon, Bob, an Air Force retiree in his mid-seventies, found himself outside working in his yard in southern Texas. As most summer days in Texas, temperatures climbed past 90 degrees. Bob's neighbor, whose name I cannot recall, so I'll refer to him as "John," was also working in his own yard. After some small talk, Bob looked at his neighbor and asked, "John, what are we doing? We're retired, in our seventies, and we are the only ones out in this heat working! Look around, none of our neighbors do the same. Either they hire someone or let their yards go to waste. Again, what are we doing in this heat? Are we crazy?" John rose from his knees, looked at Bob and simply said, "That's easy Bob. We do it because our name is on the mailbox."
After recounting this story, Bob explained to me that each one of us has our "mailbox"—whether it's the pride in our home, organization, work ethic, business, or simply our family name. Any decision not to impact ourselves and those around us in a positive way, risks our reputation and name. "Our name is on the mailbox" guided me over the years at home and work. Today, that statement drives me to return to my roots in dairy farming.
When first seeking a path for my post-military career, I began to see how my military experience created deep motivations and fulfilled them in ways I had taken for granted during my service. I would need a new career that was equally satisfying. In reflecting on my early dairy days, along with research for future opportunities, I concluded that dairy farming could possibly "scratch the itch."
Military service and dairy farming share core characteristics
People often ask why I chose a military career. Even though I didn't fully realize it upon enlistment, a sense of service drew me into the lifestyle. I am compelled to serve a larger cause than myself, helping defend my great country, while establishing trust with the American people. As I envision my departure from the Air Force, this deep-seated desire continues to guide me as I prepare to transition to a life that is very different, at least on the surface. The truth is that dairy farming also provides an excellent opportunity to serve a larger cause. As in my service my country, I don't have any grand expectations of wealth. Instead, my goal is to enrich my family's lifestyle while helping to provide for America's food and agricultural needs—all while building trust with the people we "serve," creating a sense of stewardship.
In my view, one of the greatest rewards while serving was accepting the responsibility of stewardship to the American taxpayer. Our nation is comprised of people from all walks of life who work very hard and expect the military to be good stewards of their money and trust. As a military member, I owe them fiscal judiciousness and responsibility. Responsibilities in dairy farming are similar. The people demand we serve as good stewards of government programs and, just as importantly, of our land and natural resources. My research into pasture-based dairying, and the many successful examples already in the industry, affirms my belief farmers can achieve the proper balance while delivering healthy and safe farm products.
Productivity—and witnessing the fruits of labor —is a tangible reward of military service. Throughout my career, I produced both physical labor outputs and important outcomes that were less obvious. With every end product, I witnessed a "job well-done" or the byproduct of team cohesiveness. Productivity easily translates into dairy farming, as dedicated farmers not only deliver milk, cheese, yogurt, and butter, but also satisfied customers. At the end of each day on the farm, tangible results await reflection. Understandably every day isn't one of positive results, but overall, the product or service delivered reminds the hard work is worth the effort. Producers not only take this satisfaction for themselves, but also share in it as a community.
Leaving the service, whether after 4 years or 30 years, veterans continually attest to the importance of camaraderie . The shared knowledge and skills, experiences, challenges, and daily routines that are outside the mainstream of American civilian life creates a vibrant subculture that is a source of pride and identity as well as a resource for continued personal growth. A similar network within the dairy grazing community, as I've witnessed over the past year, also provides a sense of camaraderie. Pasture-based dairymen and women consistently demonstrate a willingness to assist and educate their fellow farmers—strengthening this close-knit yet open community.
The barriers to dairy farm entry can make a dream seem impossible
Growing up in rural Wisconsin, I often found myself helping on neighboring dairies. My interest in dairy solidified during my high school years, working four years for a neighbor. Although decreasing at that time, family dairies still remained prevalent on the local landscape. Each of these dairy owners were easily identifiable by the milk sign posted in the front yard. Along with the family and farm name, the milk sign listed the company that purchased the family's milk. This simple sign in front of a dairy farmer's house represented ownership, commitment, legacy, and an identity.
Deep down inside for years, I wanted to see my name on a milk sign. Through the past nineteen years of service while monitoring the dairy landscape, I always thought it would be impossible to do so. From afar, I witnessed the demise of the small family dairy farm with increasing land, equipment, and maintenance costs. Both psychological and physical barriers contributed to my perception. I heard about and witnessed the nightmares of small family dairies losing milk contracts, family disputes over ownership, and the increase of large-scale dairies. Additionally, when I expressed my interest in dairying, my friends and family looked at me as though I had a foot-long unicorn horn protruding from my forehead.
Inside, I began to question my desire to follow this path and was ready to forfeit my fight to get my name on the milk sign. However, my discovery of the Dairy Grazing Apprenticeship (DGA), which demonstrates an exciting, practical, and proven path, has renewed my hopes.
Dairy Grazing Apprenticeship provides a pathway for aspiring dairy farmers
DGA is an accredited National Apprenticeship registered under the U.S. Department of Labor-Employment and Training Administration. Established with initial support from the USDA NIFA's Beginning Farmer & Rancher Development Program, DGA addresses barriers to dairy farm entry by utilizing a model of education that has prepared skilled workers in the trades for more than a century. DGA combines work-based training with related instruction for the federally recognized occupation of "Dairy Grazier." A dairy grazier is a farmer who uses managed grazing. In managed grazing systems, the majority of farm acres are planted to perennial forages and cows are rotated through paddocks of high quality grasses that are allowed to rest and regrow. Using this cost effective method, dairy graziers are able to restore natural resources, produce high quality milk, and remain profitable in both conventional and value-added markets.
The Apprenticeship consists of 4,000 hours of employment and training over a period of two years. Of these hours, 3,712 hours are employment and mentoring under an approved Master Dairy Grazier. A comprehensive DGA Training Manual (or "Job Book") lays out the competencies that must be met in order to own and operate a managed-grazing dairy farm, providing a blueprint for the mentoring process. The other 288 hours are related instruction designed to enhance on-farm training. Apprentices who complete the program graduate to certified Journey Dairy Grazier status and receive business planning services as they advance into management, equity earning partnerships, farm transfer or farm start up.
Over the past year, I registered for an Apprenticeship to begin in 2018, after retiring from the Air Force. I've contacted and met DGA staff members and approved Master Dairy Graziers. The staff is incredibly friendly and helpful—traits also demonstrated by the numerous graziers I visited. Both entities eagerly answer my multitude of questions and concerns. This positive interaction continues to solidify my desire to pursue an Apprenticeship, with an ultimate goal of farm ownership. To help ease the transition, veterans can utilize their G.I. Bill during the Apprenticeship, both for housing and tuition for the requisite classroom requirements. As a veteran, you can begin your dairy Apprenticeship exploration by contacting DGA.
During one of my visits to a Master Dairy Grazier's farm, the potential Master inquired about my military experience, which we discussed along with opportunities my retirement will provide (i.e. pension, health insurance). He asked, "With those experiences and benefits, why do you want to be a dairy farmer?" I told him of the lesson learned from Bob, and simply stated, "I want my name on something. I want to leave a legacy and opportunity for my children. In short, I want my name on the milk sign." Through opportunities with DGA, combined with your military benefits, you too can have your name on the milk sign.
Note: This article appears in the December 2017 issue of Graze Magazine .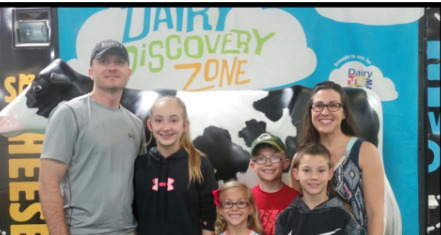 About the Author: Michael Taddy (pronounced toddee), originally from Reedsville, Wisconsin is a Major in the United States Air Force and serves as an Aircraft and Munitions Maintenance Officer. Along with his wife, Stephanie, they raise four children: Hailey, Hunter, William, and Evelyn. Mike can be reached at taddy1340@yahoo.com