Story and photos by Jami Badershall, Communications Manager for the Maine Dairy Promotion Board and Maine Dairy Nutrition Council .
Casey Smith uses the words "great, awesome, challenging" to describe his time as a Dairy Grazing Apprentice thus far at Wolfe's Neck Farm . A former steelworker from Kentucky, Casey started drifting towards farm life when he began paying more attention to what he ate thanks to the influence of his sister who studied nutritional healing. He lived near dairy farms and started getting his milk from them. "I fell in love with Jersey milk. It's like drinking ice cream!" He volunteered at one of the farms, and about a year and a half ago, he created a profile on the Dairy Grazing Apprenticeship (an organization based in Wisconsin) web site. Wolfe's Neck gave him a call last June to see if he would be interested in joining their program. During his time off from Wolfe's Neck, Casey also works at Winter Hill Farm – milking, helping with hogs and doing field work.
"It's a way to take back responsibility for where our food comes from," Casey says of farming, adding that his goals are to "treat animals right, take care of the land and produce good quality food for the local community."
Megan Bauer doesn't intend to become a dairy farmer. Originally from Pennsylvania, she decided she wanted to move to Maine while she was a student at college in Boston. She now lives in Portland and works at Wolfe's Neck during their vacation camps and other educational programs throughout the year. She thought the dairy program would deepen her understanding of dairy farming and the cows to help her better teach others who visit Wolfe's Neck.
Ben Jensen is the livestock manager at Wolfe's Neck, though his previous experience was on Montana ranches, whether caring for his father's red Angus or on other operations, not a Maine farm. Is there a difference?
"There's so much green grass here. It's insane!" he said.
In the West, irrigation is required for such lush grass. Out there grazing cattle is "range management," but in Maine it's "pasture management." Ben came east because his wife is from Massachusetts. They had twin daughters (now 3 years old) and wanted to be closer to her family. His wife then got a job in Freeport, so they moved there. The position for livestock manager at Wolfe's Neck opened up two days later, and Ben just happened to have a degree in livestock management. In his excitement over the possible job, he didn't pay attention while running a wood splitter and cut his hand. He had to go to Boston for surgery but managed to fill out the application one-handed. "That's how badly I wanted the job," he said.
While Ben oversees all the livestock on the farm, including turkeys and sheep, he has added more responsibilities on the dairy side, acting as herdsperson, doing daily chores, milking and even artificially inseminating cows along with program Director Sarah Littlefield.
Matt DeGrandpre has been on the farm longer than any of the other dairy crew members. He was born in the farmhouse that now houses the administrative offices and meeting rooms for Wolfe's Neck Farm. He's actually the third generation of his family to work on the farm.
Wolfe's Neck Farm was started by a family from Pennsylvania that came into money in the Texas oil fields. They invested that money in farms, nine of them actually. Matt's grandfather moved to Wolfe's Neck in the 1960s when he was hired to run what was then a beef operation. Matt's father was one of four boys, and they all worked on the farm. As farming operations manager, Matt is now in charge of the mechanical side of things (tractors) and is the lead man when it comes to fieldwork (haying and other crops).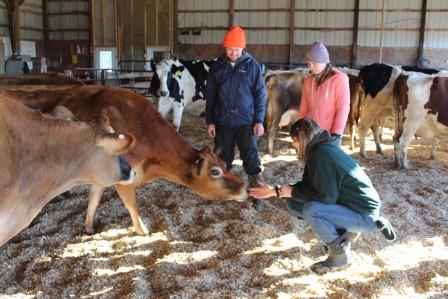 Sarah Littlefield is the newest to the program having filled the position of program director last fall. She had been part-time, working a few days a week, since September when the previous director left. She loved the concept of the program and what Wolfe's Neck was trying to do, so she wanted to help as much as she could.
Sarah wasn't born to a farm family, but growing up in Dayton, the Harris Farm was just down the road. She was fascinated by cows, and her mother took her over to the farm to see them. "Probably in hopes of discouraging me," Sarah said. Just the opposite. She started helping out there whenever she could. "They were glad for the help, so they were willing to teach me."
Sarah started showing cattle, leasing her first 4-H heifers from Harris Farm and even had teams of oxen. "I was in three or four 4-H clubs at once," she said. She also spent time working and learning at another nearby dairy farm – Harrison Farm in Arundel. She went on to study dairy science at Vermont Technical College. She lived in Vermont for 12 years, spending 8 years at Billings Farm and Museum in Woodstock. It's a working dairy farm with a purpose much like Wolfe's Neck – education and connecting people to agriculture. While milking the cows, Sarah would give talks to visitors touring the farm.
"I got to take care of some of the best cows in the world and win with them at events like the World Dairy Expo," she said of the experience. But she was ready to come home to Maine and worked on the Lewis Farm in Auburn for a couple years before coming to Wolfe's Neck.
Honestly, it's these interns that made me want to work here," she said. "They came here the first day and didn't know anything about these cows, but they wanted to take the best possible care of them they could. I guess I saw a little of myself in them, wanting to learn so much about cows. I was in their shoes once."
Dairy farming has become so ingrained in her life that Sarah does what she does without even thinking about it. "These guys question everything," she said. "It makes me stop and think sometimes."
As Wolfe's Neck Farm strives to enlighten the public about agriculture, it's fitting that the dairy farmer training program would come here. It is one more tool to educate visitors while also drawing a new breed of dairy farmers to the industry. Starting a vegetable farm is all the rage, but there are few who are choosing to start a new dairy farm even though the Maine climate and landscape are ideal for it. As existing dairy farmers age, there often isn't a next generation that wants to take over the farm. Programs like this could help to turn the tide, helping those who have the desire but not the family history in dairy farming to learn the ins and outs before striking out on their own.
The ultimate goal of the program, which is supported by Stonyfield, is to have eight apprentices at once, each staying for two years. The first year is spent learning the basics – just how to be around cattle, how to move them, how to milk them; Matt takes them into the field and teaches them about using a tractor; Ben teaches them about pasture management; they learn about working with dairy cow nutritionists and how to choose semen to breed their cows. During her regular visits, veterinarian Meghan Flanagan has led discussions about things like herd health and vaccinations. They take field trips to other dairy farms and take on-line courses through the University of Wisconsin at Madison with Rick Kersbergen, University of Maine Cooperative Extension educator on sustainable dairy and forage systems, acting as facilitator. The second year is focused on forming a business plan and applying the knowledge they have learned. Several dairy farmers and others in the dairy and agricultural industry serve as advisers.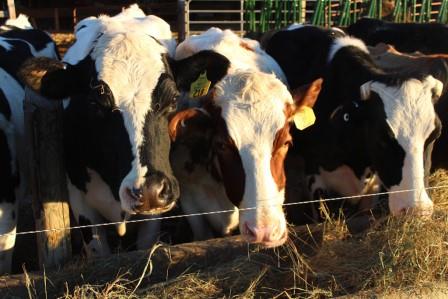 Wolfe's Neck also hopes to milk 60 cows eventually. As it is an organic dairy, it can be difficult to find organic milk cows with which anyone is willing to part. They were able to find a small herd to start with and will build as those cows have calves and those calves will eventually (in 2 years) have their own calves and join the milking herd. Currently, they are milking about 30 cows at Wolfe's Neck. Plans are in the works and construction will hopefully happen later this year on a new cow barn and larger milking parlor.