Susan J. Harlow
American Agriculturalist
Kim Shaklee isn't ready to quit his day job for the bright lights of the entertainment world just yet. But this dairy farmer from Birdsall, N.Y., says he's happy for any gigs requiring a tuba player.
His band, dubbed the Birdsall Dairy Thumpers Fighting Marching Band, includes daughter Emma and several local musicians. Last summer, the band played at a grazing meeting, featuring Union Army songs from the Civil War and his original "The Cows Are Rising" tune.
Back to his day job: Master Dairy Graziers Shaklee and his wife, Janice Brown, milk 45 cows on their 300-acre seasonal dairy, Birds All Dairy Farm, with the help of two young people. Travis Belmore is a dairy grazing apprentice in the Dairy Grazing Apprenticeship program, a nonprofit based in Wisconsin; Lauren La Mar is a candidate for the program.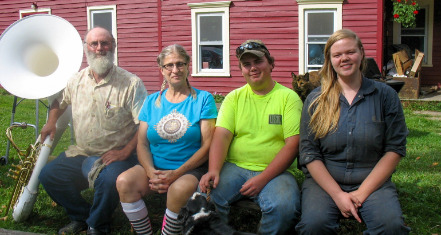 MASTERS AND APPRENTICES: The Dairy Grazing Apprenticeship program is helping Shaklee (from left) and Brown take time off from dairying, with help from grazing apprentices Travis Belmore and Lauren La Mar.
"Do you need four people for 45 cows?" says Brown, who was recuperating from a hip replacement. "No. But I'm 63, Kim is 65. We have five kids who have other ideas of what they want to do. If someone really wants to do this, why not introduce them to it?"
Bringing new blood into dairying
The apprenticeship program acquaints young people with dairy grazing. DGA's two-year apprenticeship requires paying apprentices a minimum of $10 an hour for at least 25 hours of work a week, plus provide a place to live. For the apprentices, it's a good opportunity to learn dairying from the ground up.
Belmore, who spent a year at Alfred (N.Y.) State University, is from a crops and hay family farm near Watertown, N.Y. "Eventually I want to dairy up there," he says. "I've learned more here than in a whole year at Alfred. I'm more of a hands-on guy, and they were teaching me stuff I already knew."
La Mar grew up in the South and came to Alfred State to study agriculture, with no clear idea of what ag field she wanted to enter. Belmore sold her on the DGA program. "At the time, I wasn't interested. But I got here, I knew I wanted to do cows, and fell in love with the dairy. Now I want to die milking cows."
For Shaklee and Brown, it means a little less work and a little more free time. "I'm having a great time. But Janice is having some health issues," concedes Shaklee. He had previously left the dairy just once — for only six milkings. "With apprentices, I was able to go to California twice this year."
Healthy outdoor living
All cows live outside year-round, a practice Shaklee learned in Colorado, where he grew up. Besides rotational pasture, they're fed farm-grown, grass-and-legume baleage and hay.
Cows get 1 pound of grain for each 3 pounds of milk, and are milked in a flat parlor. The mixed-breed herd currently averages 57 pounds per cow per day. They calve from February to May. The earliest calves are housed in hutches. Herd health is very good, says Shaklee, attributing that to an outside life and long-stem forage for rumen health.
Shaklee and Brown irrigate their 90 acres of pasture via a hose reel with water from a 500,000-gallon pond. A pumping station brings water up to higher ponds from a nearby brook. They can irrigate 3 acres a day. "We spent $70,000 on the irrigation system. I feel like we made the farm larger by doing that," he adds.
The irrigation system was designed with the help of the Allegany Soil and Water Conservation District, via New York's Agricultural Environmental Management program. The program has helped Shaklee and Brown with other conservation practices, too — paving the barnyard to prevent runoff, lining pasture lanes with geotextile fabric, fencing cows out of streams, and high-tensile fencing for all paddocks.
Why they came East
Agriculture was in a depression in Colorado, where Shaklee and Brown owned a crop farm and cow-calf beef operation, when they decided to come East in 1992. Janice's mother lived in New York state, so that's where they started looking for a farm.
After checking out more than 100 farms, Shaklee jotted down the phone number from the side of a milk hauler truck. "Sure enough, [the hauler] knew what farms were for sale," Shaklee notes.
What the future will bring for Birds All Dairy Farm is still in question. Meanwhile, Shaklee and Brown are happy to introduce a new generation of farmers to dairy grazing, and Kim to continue his musical career. So, if you need an enthusiastic and versatile band to play at your event and want to hear his "The Cows Are Rising," call Shaklee.
'Milk' the Master Dairy Graziers program
The Dairy Grazing Apprenticeship is a national apprenticeship program. It prepares apprentices to own and operate a managed-grazing dairy business by combining 3,712 hours of paid work-based training under an approved Master Dairy Grazier with 288 hours of online coursework and local on-the-farm learning.
Veterans can use GI Bill benefits for class tuition and housing assistance. DGA also provides financial planning services and alternative models of equity building, farm transfer and farm startup to help participants reach their farming goals.
DGA has 120 approved Master Dairy Graziers in nine states: Iowa, Maine, Missouri, Minnesota, New Jersey, New York, Pennsylvania, Vermont and Wisconsin. The program has 40 active master-apprentice pairs, 15 Journey Dairy Grazier graduates and more than 200 apprentice candidates seeking to be hired.
Harlow writes from Westminster Station, VT