Eric Gunn
Wisconsin Examiner
One afternoon, when he was 2 years old, Michael Monthey wandered off to the dairy barn at his uncle's farm near Portage. He got happily stuck there.
His mother liked to tell the story. Fascinated by the large, lumbering creatures, "I just wouldn't leave," he says.
Now Monthey is training with an eye to possibly someday becoming a dairy farmer himself. He knows the trouble the industry is in, but that doesn't discourage him.
"It does worry me on some level," he says. "But overall I'm pretty confident that I could make this work for me."
Sustainable and small
As dairy farmers in Wisconsin and across the country grapple with a historic crisis that is driving many out of the business, Monthey is one of a handful of people who are committing to learn not just how to raise dairy cattle, but how to do it with sustainable, smaller-scale practices that hearken back to an earlier time.
Overproduction, changing consumer tastes, and the concentration of dairy agriculture in larger and larger operations that often provoke environmental concerns, are combining to force record numbers of dairy farmers out of business.
Participants in the Dairy Grazing Apprenticeship program, based in Wisconsin but operating now in more than a dozen states, believe they may offer an important antidote to the industry's ills.
Managed grazing — sending cows out to pasture to feed on growing vegetation instead of feeding them in the barn using commercial grain mixes — isn't just the traditional way of raising cattle; it's making a comeback with some farmers who find it both economical and earth-friendly.
For farmers who use managed grazing, "there isn't so much overhead and capital," says Joe Tomandl, a Medford dairy farmer who also is executive director of the Dairy Grazing Apprenticeship program. "So just from a pure economic standpoint, it provides inroads for people to get started dairying."
Among the environmental benefits, managed grazing requires farmers to grow fields of greens to feed their herds, and to make sure that the feeding cattle don't nibble their dinner down to the bare ground, "so we don't have soil runoff issues," he adds.
Knowledge needed
Managed grazing demands extensive knowledge from participating farmers — which in turn demands an educated labor force. As managed grazing farmers considered how to expand their number while making sure that new farmers were adequately trained, the Dairy Grazing Apprenticeship was born.
The birthplace was Wisconsin in 2010. Tomandl and other organizers of the apprenticeship program persuaded the state Department of Workforce Development to formally register it — the nation's first apprenticeship program in agriculture. In 2015, the apprenticeship program won federal recognition, allowing it to spread to other states, potentially opening it to more people.
"The best way to train a farmer is in the doing — like with plumbers and electricians and steamfitters," says Tomandl. "That's why we looked at this formal apprenticeship program."
Apprenticeship participants work for two years for a dairy farmer who uses managed grazing. They also must take 300 hours of related coursework. Upon completion of the program, they are qualified to operate or manage a farm.
The DGA program is now in 13 states, with 180 farms who have qualified to sponsor apprentices. Some 45 people are currently enrolled as apprentices; another 30 have already completed the program, making them journeyman agriculture workers.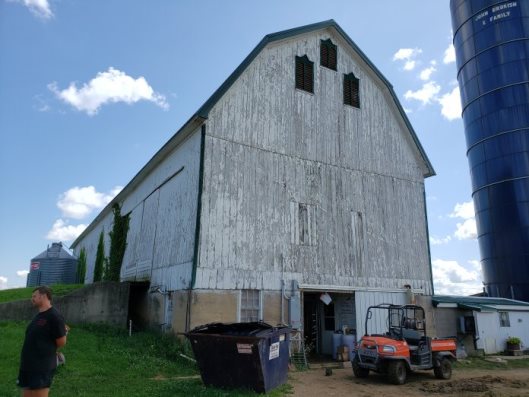 Managed grazing farmer Scott Mericka stands outside the barn of his farm in Dodgeville.
"What we hope to do is offer a path to aspiring farmers," says Scott Mericka, a managed-grazing dairy farmer in Dodgeville who has sponsored apprentices in the program, including Monthey. "We feel that all dairy farms, however they feed their cows, are really important to the rural economy."
The apprentice's job is paid, and the program requires farmers to give their apprentices a raise every six months.
On-the-job training
Some apprentices start with a lot of knowledge and experience already. Or, says Mericka, "The apprentice can come in knowing absolutely nothing." Upon successfully completing the program, apprentices can qualify to manage a farm or might choose to own and operate their own farm.
Monthey began his two-year apprenticeship on Mericka's farm in June, but he's already worked there for a few years.
After his first brush with the dairy barn at his uncle's farm, Monthey's mother encouraged his interest throughout his childhood.
"She kinda figured that farming was something I might like to do so," he says. "From then onward she started having me hanging out with her brothers, seeing what they do, and gave me jobs to do as I grew older."
Like many farm kids, he began raising animals to show at area county fairs. "I didn't do so hot my first year. I only got a couple of second-place ribbons in the show ring," he says. Some first-place ribbons followed in the subsequent years: best showman, first-place second-year-old cow, and best udder of the fair.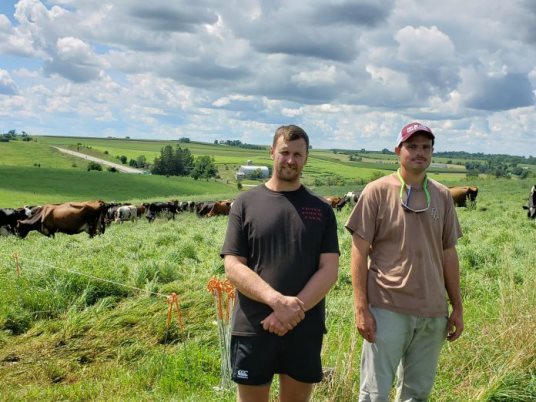 Farmer Scott Mericka and his new dairy grazing apprentice, Michael Monthey, at Mericka's farm in Dodgeville. Mericka's herd of dairy cows gain most of their nutrition from grazing on the land rather than commercial feed mixes.
After high school Monthey enrolled in the University of Wisconsin's 16-week Farm and Industry Short Course. Finishing the course in 2013, he had trouble finding a job at first and had to settle for a time for work at a tractor supply store.
Then a mentor of Mericka's at the UW who had also taught Monthey in the short course helped connect the two of them.
Mericka farms 300 acres of his own and rents another 300, with a herd of about 200 cows. "Multiple smaller farms instead of a few large farms is where we want to see dairy farming go," he says. "We don't want a 'get big or get out' mentality."
Monthey went to work part-time for Mericka and worked his way into a full-time job. This past spring, he completed a short paid internship as the calf manager's assistant there, helping to raise this year's group of dairy calves on the farm. In June, he began his two-year dairy grazing apprenticeship.
When he's finished, he hopes to keep working in dairy, but also wants to branch out, perhaps raising beef or consulting for other grazing farms. He thinks he'll stay in Wisconsin, although he's had opportunities to go work on managed grazing farms as far away as New England. "It'd be kind of hard for me to leave the place where I grew up," he says.
Reviving rural communities
Managed-grazing dairy farmers believe it can help reverse some of the struggles their industry has faced in the last few years.
"What's happening in dairy right now, I haven't seen anything like this before," says Tomandl. "And it's happening fast. It's becoming a vertically integrated industry quickly, and it's kind of hit the tipping point."
The concentration of farms with larger and larger herds has a ripple effect on rural communities, reducing the demand for multiple businesses that fill the same niche and unraveling the community fabric in the process.
A grazing-based dairy industry limits the size of farms to a few hundred instead of several thousand, however. That would allow a larger number of businesses serving those farms to thrive, Tomandl says.
Several smaller farms could still link together in a larger network, offering some of the efficiencies of scale that giant dairy farms offer without the negative impacts on the environment and local communities.
Survival depends on doing something new, he says: "If we keep going the way we're going you will not see small farms and rural communities and independent type of businesses. They're just plain going to be gone."
But considering how deep the industry's turmoil is now, is it too late?
"I don't think so," Tomandl says. "Because it is so distressed right now, that 's exactly the times which make it necessary to make big changes. That's when things can flourish."