Stephanie Speicher
Lancaster Farming
BELLEVILLE, Pa. — Matt Byler is OK with being different.
In fact he likes it.
Byler grew up on Peachee Farms, and was used to dairying in a conventional manner. But about 27 years ago, he decided to try something different — grazing.
His grazing methods have changed over the past two decades, but overall, Byler knows that grazing is the right choice for him.
About five years ago, Byler's son, Garrett, spent time working on a large dairy farm in New Zealand, and after returning home with that knowledge and experience, father and son decided to implement New Zealand-style grazing on their farm.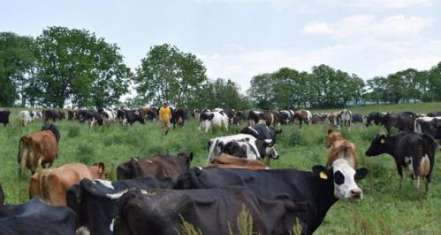 Garrett Byler moves the cows from one pasture to the next.
In the New Zealand method, cows are rotated based on the health of the pasture and not on a set schedule.
Byler said he knows what he is doing is different, but he likes that.
"I like being that guy that everybody looks at and thinks is nuts," he said.
But not everyone thinks he is nuts. Pasa Sustainable Agriculture hosted a pasture walk at his Belleville farm on June 6, and about a dozen farmers attended.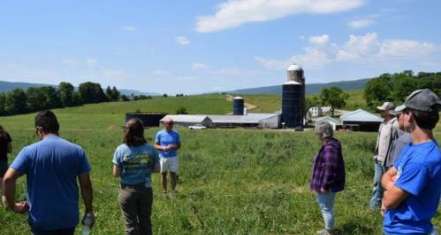 Matt Byler talks with pasture walk attendees about his pastures at Peachee Farms.
Though Byler said he doesn't get the same milk production as a conventional dairy, grazing gives him a lower cost of production. He doesn't need to invest money or time in feeding systems or manure equipment, since all of that is done in the pastures.
"I like the idea of my cows doing more of the work," Byler said.
Byler milks over 200 cows and sends his milk to Land O'Lakes.
Byler milks seasonally, typically milking cows from March through early January. Cows are then dried off for the remainder of the winter. He's also changed up his breeding to have cows that are small in stature. They tend to do better on pasture than tall cows.
Byler's herd is all crossbred at this point, and he likes to use a lot of New Zealand and European genetics because those cows are "made for this system."
"Our herd looks so much different than it did 20 years ago," Byler said. "It's been a long time getting here."
Peachee Farms is about 200 acres and is split into 56 paddocks, each approximately 2 acres. The cows are moved to fresh pasture twice a day.
The majority of Byler's fencing is single wire and can be moved as needed to adjust the pastures.
The pastures are seeded with a large variety of plants including fescue, ryegrass, clover, chicory and sunflowers. Byler clips weeds when needed.
Grazing can have its challenges, one of which is heat stress. Byler's acreage is fairly wide open with very little shade, but he's working on changing that. He is working with Trees for Graziers to plant 2,500 trees along his fencerows.
"The best time to plant a tree is 20 years ago," Byler said. "That's very true."
Peachee Farm is not certified organic, though most of Byler's practices are organic.
"I don't like chemicals any more than I have to," Byler said.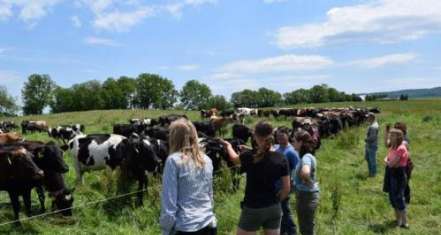 Attendees at the Pasa Sustainable Agriculture pasture walk check out the cows at Peachee Farms in Belleville, Pa.
For Pennsylvania farmers who like Byler's method of dairying, Pasa offers a few options for getting into grazing.
The Dairy Grazing Apprenticeship is a two-year program that pairs beginning farmers with mentors — one of whom is Byler. These apprenticeships combined paid on-farm work with technical coursework.
Pasa also offers a Dairy Grazing Project in which dairy farmers can receive free or reduced-cost assistance in transitioning the farm to grazing.
The three-year project has multiple partners including the Center for Dairy Excellence, TeamAg and the Rodale Institute.
All photo by Stephanie Speicher