Brittany Olson
Dairy Star
COLFAX, WI – Even though a downpour during their pasture walk was not well-timed, dairy farmer John Richmond was grateful for the rain nonetheless. The pastures were beginning to look parched.
"The alfalfa is still growing, but all of the cool-season grasses had gone dormant," Richmond said.
Richmond, who milks around 200 cows near Colfax, Wis., with his wife, Chelsea, purchased the milking herd from master grazier Charles Flodquist when Richmond finished his apprenticeship program under Flodquist with the Dairy Grazing Apprenticeship last year. Chelsea, who works off the farm as a math teacher, helps on the dairy, as well.
The couple hosted a pasture walk with Wisconsin Farmers Union and River Country Resource Conservation and Development at their farm Aug. 24.
"I bought the cows in January and didn't get my first milk check until February," Richmond said. "I'm keeping my first 80 pregnant cows this year and selling the rest that calved in prior to and during this spring. I am also running cows with the bull some to save semen, which I do anyway if they don't take to their first two services with A.I."
During the pasture walk, Richmond explained that even during periods of depressed milk prices he is not afraid to try new things to make the farm more environmentally friendly, including planting varieties of forage to improve nutrition and soil biology while reducing erosion and nutrient loss in the hills and valleys.
"I'm all about variety with farming practices to farm in a more eco-friendly way," Richmond said. "I am always throwing something new in the grain drill to see what comes up, like Balansa clover and hairy vetch. I figure that as long as it isn't tall fescue, which isn't very palatable to cows, you're golden."
That love of variety also carries over into the milking cows, which are comprised of Holsteins crossed with Normande, Fleckvieh, Brown Swiss, Ayrshire, Montbéliarde and Jersey. Richmond breeds for strong udder attachment with plenty of bloom combined with the stronger stature and muscling of dual-purpose cattle.
"If it looks like a Holstein, it gets bred to something else and if it looks like something else, it gets bred to Holstein," Richmond said. "I'm expecting to milk cows and ship beef when their productive life is done. I'm looking for beef stature with 92-point udders."
The cows are pastured 365 days out of the year on 380 acres at the home farm with 40 acres across the fenceline and 72 up the road, with additional feed harvested in the form of baled hay, baleage and corn silage. They are fed round bales on certain pastures throughout the winter to boost soil fertility through manure and trampling of feed through the snow to build organic matter.
"Manure is like glue," Richmond said. "It sinks through the snow and stays there on the soil surface. You can see circles on those pastures after overwintering where the grass is greener and more lush."
Not long after purchasing the cows and waiting for his first milk check to arrive, Richmond found himself out of grain corn in the dead of winter. It ended up working out because he plans on returning to a grain-free ration once winter arrives and the grazing season ends.
"Between the grass, baleage and corn silage we are 100 percent forage fed," he said. "There was an initial drop in milk, but the components came up so the milk check was almost the same."
Richmond said throughout the summer he has returned to feeding four pounds of grain per milking.
"As soon as the grass started to green up and I ran out of corn silage, I had to start feeding grain in the parlor again to bring my MUNs down," Richmond said. "But, once the grazing season is finished, I will gladly switch their diet back to corn silage and baleage. The more we can stay away from grain, the healthier the cows have seemed to be."
Between keeping things as natural for the cows as possible while incorporating innovative practices to keep the farm environmentally and fiscally sustainable, the Richmonds are doing their best to dairy in harmony with nature.
"I am all about staying in the black this year and studying what is most cost-effective," Richmond said.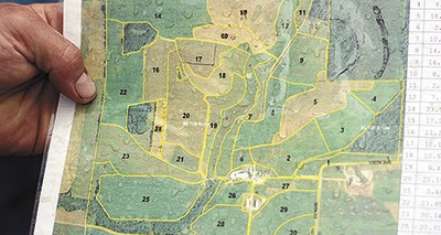 John Richmond shows a map of his farm's pastures. The farm consists of 380 acres at the home farm with 40 acres across the fenceline and 72 up the road. In addition to pasture, he also harvests corn silage and baleage for winter feeding. Photo by Brittany olson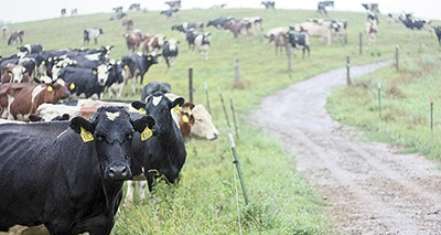 The Richmonds milk a wide variety of crossbred cattle, crossing dairy breeds with dual-purpose animals to improve muscling, udder height and attachment, and carcass value at the end of the cow's productive life. As an example they cross Holsteins with Montbeliarde, Normande and Fleckvieh. Photo by Brittany olson