Tamara Scully
Progressive Dairy
Dairy farmers are a breed apart. There aren't many other occupations – and lifestyles – that can compare to the experiences raising and milking cows, and producing a commodity that is closely regulated, has a long history of volatile pricing and demands excellence in animal husbandry and environmental stewardship.
So how and why does a person with no experience in dairy farming, or with experience in confined dairy farming, opt to become a dairy grazier?
Dairy Grazing Apprenticeship (DGA) is a national program and the first formal apprenticeship program for farming in the U.S. The program is attracting a wide diversity of aspiring dairy farmers, including those from non-dairy – or even non-farming – backgrounds.
Choosing dairy
Jessica Matthews will complete her DGA apprenticeship this coming spring. A city girl with an advanced degree in psychology, she has found that dairy apprentice training has positively impacted her life.
"I have learned more about myself in my three years of dairy farming than I have in any other type of work that I've done," she says. "Taking cues from the cows about schedules, time management, patience and nurturing have made me a better person in all of my affairs."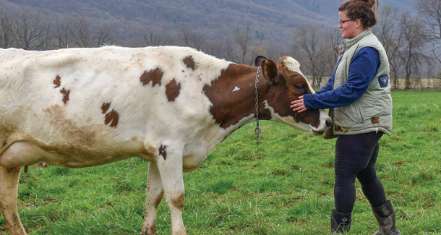 But why choose dairy farming after obtaining her graduate degree and working in psychology for more than a decade?
"In speaking with patients as a therapist, I became aware of food injustices and disparities. I chose to get into dairy because I wanted to learn more about our food systems and deepen my knowledge of agriculture," Matthews says. "What was especially attractive about DGA was the grazing aspect. Cows are amazing in that they can turn grass into milk, and I wanted to be a part of that food system. I had never spent time on the same side of a fence as a cow until I got to Hameau."
Jessica was paired with Master Grazier Audrey "Gay" Rodgers of Hameau Farm in the Big Valley, which isn't only a grazing dairy but also home to a summer camp for young girls.
Matthew Keesling, who now serves as the veteran liaison for the DGA program, became an apprentice after 24 years serving in the United States Army. Although he grew up in a rural area and had some small farming experience, he did not study dairy or agriculture in school and did not have a dairy farming background.
Keesling went into the DGA program knowing he wanted to own a farm. He specifically apprenticed with a dairy farmer who had no succession plan and was willing to consider a transfer of ownership as an option.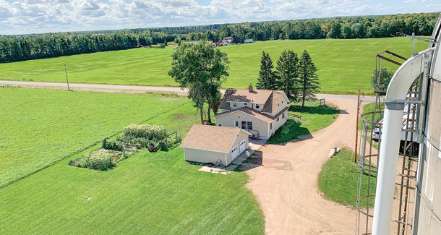 "I started the program knowing I wanted to own a farm. I was attracted to DGA because it was hands-on and not classroom instruction. I had plenty of education but wanted farming experience," Keesling says.
Anthony Neitzke began as an intern in the DGA program. He is rolling his internship hours into the apprenticeship program. He's been working on the Wisconsin farm of Master Grazier Joe Tomandl III, executive director of DGA.
Neitzke was taking courses to become a dairy nutritionist when a job as a forage research assistant at the University of Wisconsin – River Falls turned his interest toward grazing cattle. While Neitzke had been around farming his entire life, he never really did much actual farming himself. He did assist on his grandfather's dairy as a young child and participated in 4-H and FFA.
"I think the funny thing about becoming an apprentice is that when I was in high school, I met and spoke with Joe Tomandl about becoming a dairy grazing apprentice, not knowing that in five years he would be my Master Grazier," he says.
Daniel Holton is definitely a dairy kid. His family milked 200 to 300 cows before selling them when he was 16, in a "partially housed TMR system where the cows relied on us to bring all the feed to them. My dad and his brothers … did the best they could with what they had, but I always thought there was a better way to do things."
Holton became interested in managed grazing and enrolled in the DGA program. Today he manages a 1,100-cow grazing dairy on 1,500 acres in Missouri. They graze perennial ryegrass, alfalfa and cereal rye, and also feed corn silage, baleage and purchased commodities.
Lessons learned
"I worry that if I knew then what I knew now I may never have gotten into dairy," Matthews says. "I did not know about low milk prices or financial scarcity. I had just assumed that the cows make milk, someone buys it, and then we do the same thing tomorrow. The market aspect of dairy farming was a shock to me."
Holton was well aware of the volatility of the milk market, yet believes that "there is nothing but opportunity in dairy for those [who] want to look for it. Good management is good management, no matter the system. I see DGA as a way of bridging the gap between the labor pool and retiring farmers of large farms needing management."
The military is similar to that of dairy farming in many ways, according to Keesling. A set regimented schedule, problem-solving skills and flexibility, plus a strong work ethic and self-motivation, are required for both occupations.
"I did consider row crops and beef operations, but I desired the daily tasks of dairy," he says. "I wanted to make sure there was something to get out of bed for every day."
Why graze?
Keesling is planning on becoming a Master Grazier and to take on apprentices through the DGA program. Whether they have dairy backgrounds or not, he views apprenticeship via the DGA as an excellent opportunity, particularly for military veterans.
"It is a path one can take if they have zero ties to agriculture and just come in with desire and hard work," Keesling says. "Opportunities will open up … and there will be someone [who] is ready to take you under their wing so that you succeed for the next generation."
Matthews' dairy farming future isn't certain. "I would like to stay in a dairy as a career for the time being. I still have so much to learn, it seems," she says. "Even if life changes take me away from a career in dairy, the life lessons I've learned will prove invaluable in any future endeavors."
Holton, with his confined dairy background, sees grazing as having an advantage. "If your farm is struggling to be profitable, grazing will not save you. I think grass will always be the cheapest food for a ruminant, but it doesn't grow everywhere year-round. Do what works for your farm. Remember that we are all mostly paid the same for our nameless, faceless commodity. Most farms could probably fit grazing in somewhere, whether it's for dry cows, heifers or the low-production, late-lactation group. I like to see cows on grass."
Neitzke, whose DGA experience is on a 200-head dairy farm with 320 acres of pasture for grazing, isn't sure if dairying is his calling – but knows that grazing cattle is. He summed up the relevance of the DGA program: "As a descendant of dairy farmers myself, I was taught there was only one way to farm, and that way was dying. I wish I knew more about how positive an experience it is to graze dairy cattle. Since meeting Joe Tomandl and wife, Christy, I have discovered a new way to farm, and for me it is a lot more fulfilling for the future."
PHOTO 1: Anthony Neitzke began as a DGA intern and is now an apprentice. Photo provided by Anthony Neitzke.
PHOTO 2: Jessica Matthews with Lina the cow. Photo provided by Emily Decker.
PHOTO 3: Matthew Keesling's farm on which he apprenticed – and which he has now purchased. Photo provided by Matthew Keesling.
Tamara Scully, a freelance writer based in northwestern New Jersey, specializes in agricultural and food systems topics.