Elsie Stormberg
Wahoo Newspaper
RAYMOND, Neb. – Grace Cadotte is neither a dog person nor a cat person.
She's a cow person.
So much so, the Raymond Central senior has a whole Pinterest board dedicated to her love for cows, and plans to have cow print decorating her graduation cap on May 15.
"They're soft and they're sweet," Cadotte said. "At least the ones I've worked with before."
She enjoys cows so much, she might end up making a career out of it. Cadotte will be moving to Freeport, Maine to work as an intern at Wolfe's Neck Farm and learn more about dairy farming starting June 1.
Cadotte said she attributes her decision to pursue dairy farming to the opportunities she found after her and her family moved to Raymond from northwest Lincoln just before her freshman year at Raymond Central Junior/Senior High School in 2017.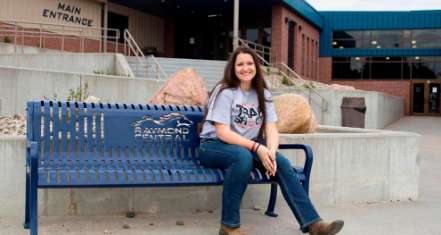 Senior Grace Cadotte sits outside of Raymond Central Jr./Sr. High School on Friday in Raymond. After graduation, Cadotte will be moving to Freeport, Maine for the summer for an internship at Wolfe's Neck Farms. (Photo by Elsie Stormberg)
Cadotte first fell in love with cows when she started working at Davey Road Ranch under family friend and Master Grazier Ben Gotschall three years ago. In November 2020, Gotschall moved to Maine to be the dairy and livestock manager at Wolfe's Neck Farm.
"What I did there was I milked the cows, and I basically did everything that I'm going to learn how to do up there, but bigger and better," Cadotte said.
Now, Gotschall is helping Cadotte further her career. Gotschall said Cadotte will be learning about the care and feeding of a dairy herd, basic herd health and sanitation and how to manage pastures and harvest hay.
"She'll be right in the mix," Gotschall said. "Learning how to milk cows and move cows around on pasture and set up portable fencing and equipment operation."
Wolfe's Neck also conducts a lot of research on climate change and how it can affect agriculture, Gotschall said. Cadotte will learn about monitoring methane coming from the farm's cows as well. Gotschall said Cadotte will be the youngest member of the team since most of the apprentices are college-aged.
"She'll fit right in," Gotschall said.
When the internship ends in August, Cadotte said she plans on applying for the Dairy Grazing Apprenticeship Program which lasts two years and results in Cadotte becoming a Journey Dairy Grazer. If she chooses to take this route, Cadotte said her goal is to take over a ranch as well as take her skills to her relatives at The Standing Rock Reservation.
"Helping Native American communities, that's what I really want to do," Cadotte said.
Cadotte is half Native American of the Lakota Sioux tribe. The first time she had ever been to her family's reservation was for her grandmother's funeral.
"When I got there, it was just like, can people live like this?" Cadotte said. "It was heartbreaking for me if I wasn't already heartbroken for my grandma."
Cadotte said she would like to set up a local dairy farm to make money for the community. Cadotte said she wants to ultimately enroll herself in the tribe and educate herself on the Lakota language to better connect with her culture. She hopes this will help her gain trust from those living on the reservation so they will accept her help.
Gotschall said it's not only exciting to see a young person like Cadotte take an interest in agriculture, but also having a strong desire to become involved with native agriculture.
"I think anytime that you have an opportunity to work with people who want to give back to their community, and take something back that they can use to help themselves and others, that's just always a good situation," Gotschall said.
Cadotte is excited for a lot of things with this internship. Not only will it further her hopeful career, but it will broaden her horizons.
"I'm excited for the seafood. I'm excited for the cows," Cadotte said. "(I'm) excited to finally get out of state for a little while and I'm excited to spend my summer making money."