Greg Galbraith
AgriView
Dale Pratt is the 50th graduate of the Dairy Grazing Apprenticeship program. His introduction to dairying was kindled as a youth on his grandfather's 20-cow dairy farm in northern Utah. He later worked on the Utah State University dairy farm while putting himself through college to earn a degree in animal science. He worked on a conventional dairy in northern Utah after graduation, and then spent two lactation seasons working on a dairy farm in New Zealand. After his experience abroad he worked on a 5,000-cow dairy in southern Utah, where he managed 1,000 acres of irrigated pasture for grazing.
Pratt discovered the Dairy Grazing Apprenticeship program while reading periodicals and other sources of information on managed grazing. After interviewing with several potential mentor farms, he chose to work with Don Boland, a self-taught dairy grazier near Gays Mills, Wisconsin.
"It's been a great experience working with Don," Pratt said. "When I met Don he showed me his financial numbers and how he organizes his business."
Boland was able to show him why he was profitable year after year, Pratt said. He said it rang a bell with him because it's important to be able to quantify and qualify the strengths of a business.
Because Boland is looking to reduce his personal workload, Pratt plans to stay on the spring-seasonal-calving dairy farm. The two are currently developing a plan for Pratt to acquire assets as part of his salary.
"(My goal is) to dairy-farm with a good system, and eventually own my own dairy farm," Pratt said. "I've worked in a lot of different dairy systems and in all I've found that cows prefer to be outside."
He likes Boland's business aptitude, breeding program, seasonality and the fact he doesn't believe in concrete or confinement on his dairy, he said.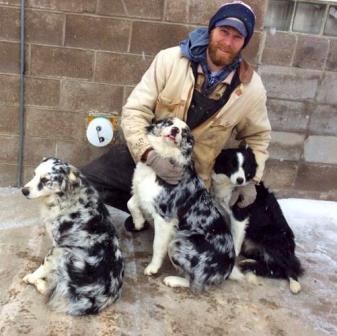 Dale Pratt, Apprentice to Don Boland of Gays Mills, poses with Australian Shepard Kitty (left). In the middle is Festus, offspring to Kitty and Cowboy (right).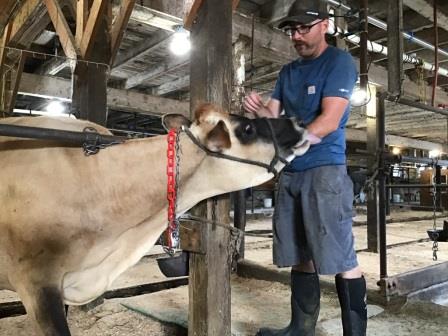 Jacob Lee's experience with cattle is limited to butchering until he starts working at Clovercrest Farm near Charleston, Maine. He falls in love with it and soon becomes enrolled in Dairy Grazing Apprenticeship, graduating this past January as the program's 49th graduate. He maanged the grazing aspects of the operation and assists with herd management. CLovercrest farm milks once each day; the decision was stricly about quality of life, he said. There's less work and more time for family. He's content with managing a dairy at this point in his life while he decide whether to jumr into ownership.
"Graduating as a certified Journey Dairy Grazier is a significant accomplishment," said Joseph Tomandl III, the Dairy Grazing Apprenticeship executive director. "(The program) has received hundreds of applications to secure an apprenticeship with one of our approved mentors. (The apprentices) then work full-time on a dairy farm while completing classes, learning all the ins and outs of not only a managed-grazing dairy but also running a small business. Not everyone makes it through."
The two-year apprenticeship requires a minimum of 3,700 hours of work-based training under an approved mentor – along with 300 hours of related coursework, peer-discussion groups and networking opportunities. Initiated in Wisconsin as a statewide program, the program became a national program in 2015 and now has more than 200 approved mentor training farms in 15 states. The Dairy Grazing Apprenticeship partners with eight other organizations and universities to provide educational support across its expanding service area.
"We've been really excited about the growth of the program and the continued interest in dairy farming, especially regenerative-managed grazing, among young people," said Angie Sullivan, director of apprenticeship.
Even those apprentices who do not graduate gain real-life skills, experience and connections during their time working with a mentor, she said. More than 600,000 hours of training have been delivered to aspiring dairy farmers through the apprenticeship and internship options.
Tomandl has been involved with the Dairy Grazing Apprenticeship program since its inception in 2010. In addition to his role as executive director he owns three neighboring 180-cow grazing-based dairy farms employing 10 people in Taylor and Marathon counties in Wisconsin. His home and "DGA central," as he calls it, is one of the three locations; it's a farm he purchased in 1998. He said there's a lot of "really sharp" apprentices on farms who don't have a big agriculture background.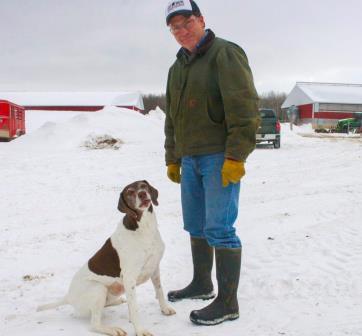 Joe Tomandl III pauses from work with Daisy, a German Shorthaired Pointer, on one of his three 180-cow grass-based dairy farms near Medford, Wisconsin.
Tomandl is currently working with apprentice Anthony Nietzke, who was on pace to graduate from the program this month. Nietzke attended University of Wisconsin-River Falls where he earned an animal-science degree. He learned about the grazing movement when he was on the UW-River Falls forage-bowl team doing pasture sampling. He said he plans to remain on Tomandl's farm for the immediate future, but aspires to eventually operate his grandparents' farm near Osseo, Wisconsin, where he often helped as a youth.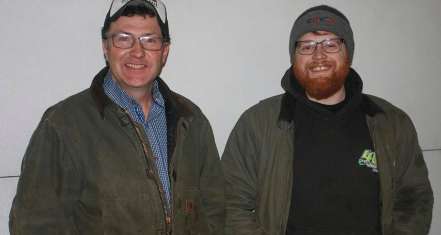 Joseph Tomandl III, executive director of the Dairy Grazing Apprenticeship program, left, poses with his current apprentice, Anthony Nietzke of Osseo, Wisconsin. Nietzke will graduate this month; he plans to remain on Tomandle's 180-cow grass-based dairy near Medford, Wisconsin.
"A managed-grazing dairy has the potential to address many of the environmental and economic challenges facing our rural communities," Tomandl said. "(The Dairy Grazing Apprenticeship) goal as an organization is to develop skilled people who can be part of the solution."
Visit www.dga-national.org/participate for more information.
---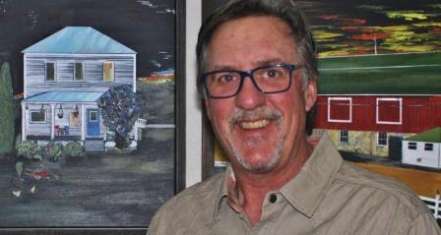 Greg Galbraith, a former dairy farmer who owns woodlot property in eastern Marathon County, Wisconsin, writes about the rapidly changing nature of the agricultural landscape. He has built a lifetime connection to the land and those who farm it.