By John R. Russett and Maureen McMullen
River Falls Journal
As post-World War II America raced hand-in-hand with a booming economy, the disparate decades preceding lending little insight into industry's imminent scale and scope, proficiencies' perpetuation, bolstered by corporate conglomerates, drove businesses to keep pace.
Gains in productivity, while seemingly essential alongside an exploding population and continued emergence of global markets, left some struggling to find footing. Namely, the nation's farmers.
America's mechanization pushed farmers further from family farms, forcing the continued consolidation of land, efficiencies of scale supplanting seasoned planters' tack.
The dairy industry was no different, but industrialization's inevitable inundation wasn't accepted by all, spawning a countermovement — the heart of which lies approximately two and a half hours east of the St. Croix River Valley.
Less than two miles from where he grew up, third-generation dairy farmer Joseph Tomandl III, baseball cap sitting loosely over dark, curly hair, black T-shirt tucked into well-worn blue jeans, sat down at a picnic table beneath the shade of a barn and stepped his son through the tasks to finish before lunch.
His family's business shifted from the industrial model in the 1980s toward grazing, a method employing fencing to section off patches of grass for cows to eat rather than feeding them in a confined facility.
"I think all of this came when dairies were evolving," he said. "They either had to really start investing in that industrial type of model, get more milk out of cows, invest in equipment and capital, or they'd maybe think about starting to get out."
Through that lens, Tomandl helped develop the nation's first and only nationally recognized formal dairy grazing apprenticeship, its headquarters on farmland outside Medford, Wis.
"This is the Tesla of the dairy industry," he said.
Kewaunee
Bordered in its entirety on the east by Lake Michigan, Door County to the north and the northwest corner nestled against Green Bay, Kewaunee County invites visitors to experience "The Good Life, On a Great Lake."
In recent years, however, things have been less than good, with 28 percent of the county's tested private wells found unsafe, all three of the county's major waterways put on the Environmental Protection Agency's impaired waters list, and a dead zone that extends from its shore into the bay, as well as multiple beach closures due to unsafe water.
Lee Luft, Kewaunee County Board member involved in ground and surface water protection, spoke to St. Croix County's Ground and Surface Water Quality Study Group as the panel approaches its October deadline for recommendations to the County Board.
Luft said the Mississippi, St. Croix, Red Cedar and Eau Galle rivers along with Lake Pepin are on EPA's impaired water list as well — to name a few. St. Croix County alone has 17 bodies of water on the list.
"I imagine you have a very similar issue here to what Kewaunee County has had," he said.
Luft cited Kewaunee County's relatively rapid ascension to 11th out of Wisconsin's 72 counties for most cattle as a driving force behind the county's well-publicized water issues.
According to the United States Department of Agriculture, Kewaunee County has approximately double St. Croix County's cattle count of 51,000, with an estimated 99,000 cattle, while maintaining roughly half the size in square miles. According to Luft, 62 percent of the county's cattle reside on concentrated animal feeding operations.
Kewaunee County has battled soil erosion, runoff from feedlots and manure storage to Wisconsin waterways as well as sediment runoff, all of which contribute to the county's ongoing water issues, Luft explained.
Grazing as a solution
On his farm, almost exactly halfway between St. Croix and Kewaunee counties, Tomandl believes he found the remedy for issues facing the two counties, what he describes as the unintended consequences of large-scale, industrialized farming.
"Dairy has tools in its toolbox to fix this," he said. "Let's be fearless when we look at some of the solutions, some of the big solutions that are out there."
The grazing model does this, Tomandl explained. Natural limitations of a grazer's farm directly address environmental issues such as soil loss and runoff.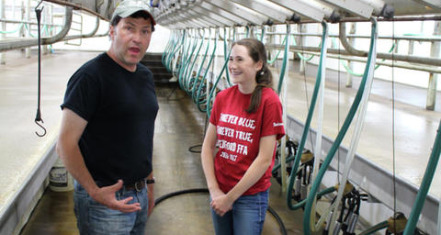 Joseph Tomandl and daughter, Abby, step into the milking parlor on their Medford farm. John R. Russett / RiverTown Multimedia
Permanent pastures where cows feed, he said, offer a natural filter for surface and groundwater.
This model also lessens an operation's concentrated manure load and offers an appropriate cow-to-land ratio because it only requires as much acreage as cows are willing to walk. Cows spread their own manure, fertilizing the fields as they eat, he said.
While providing a model more environmentally friendly, Tomandl hasn't sacrificed the business end.
"Both of my farms are now organic, because it's business," he said. "That's where I see the growth and the markets and the stability. I'm heading that direction. And I'm hoping by having a more decentralized model, a multiple-farm model, it's going to keep me a lot more nimble so I can react to consumer demands."
A growing "farm-to-plate" market means consumers like to know more about where their food comes from and who produces it.
"The family, the local farm, tracing farm to plate and knowing the family running it, that's got value," Tomandl said. "From an economic standpoint, if I was an outsider to invest in dairy, I would look at the emerging market. I definitely think these are the emerging markets coming up; they're not going to run against conventional dairy, they're going to run right along with it."
Mutual benefits
While Tomandl is a firm believer in his grazing model of dairy farming, he made clear the coexistence of CAFOs and dairy grazing operations will benefit the dairy industry as a whole, he continued.
"You source your food from all different places; you diversify your business," he said. "It's not a one or the other. They're going to be stronger together."
Ultimately, Luft said maintaining monitoring and enforcement of regulation is an ongoing process.
He left the study group with some parting words of wisdom: "It is going to probably be up to you to enlist the support of your citizens, to enlist the support of your media, to enlist the support of your local representatives and hopefully one or two of your state representatives so your voice is heard."
RiverTown Multimedia reporter Rebecca Mariscal contributed to this story